This is my 1939 Oldsmobile that I have been restoring on and off for 25 years. Updated pictures will arrive soon so check back again.
Details
Body Style: 2dr Club Coupe, 80 Series
Engine: Inline eight cylinder ( straight 8 ), 2 barrel carburetor,(see below)
Transmission: 3 speed manual
Color: Titan Maroon
Options: Motorola Radio, Arvin Heater, Fog Lights, Cigar Lighter, Clock, Opera Seats ( fold down rear seats)(see below)
---
VIEWS OF 8 CYLINDER ENGINE
VIEW OF FOLD DOWN REAR OPERA SEAT
---
---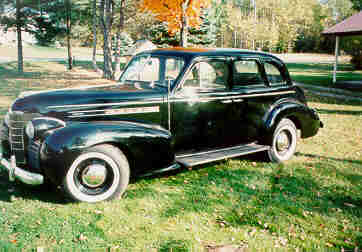 FOUND THIS 1939 70 SERIES "BLACK BEAUTY" ON THE INTERNET
---
PERSONAL INFORMATION
WHO AM I ?
I live 30 minutes from downtown Chicago. I am marketing manager for a company that develops technologies for improving the performance of various fuels. We have additives for gasoline, diesel, propane, and fuel oil.
I have been driving and restoring cars from the 30's,and up since 1971. I became involved with the fuel additive business because I wanted to find a career in the automotive field so that I could use my knowledge of the automobile in my daily life. It has turned out to be an enjoyable career since I spend every day helping people solve the many problems that exist with today's fuels, especially gasoline. I first encountered these additives when I needed a lead replacement for my 1939 Oldsmobile. Eventually I became so involved that I changed careers and started selling the additives myself.
In 1971, I acquired a 1939 Oldsmobile, 2 door, club coupe, 80 Series, from my uncle. After doing some investigation I found this to be a relatively rare car because there were not many Oldsmobiles of this vintage left, especially a coupe with a straight 8. I made the decision to take it completely apart and restore it to original condition as opposed to making it a street rod as many of my friends suggested. I did not realize at the time what a great undertaking this would be.
In the meantime, I got married, bought two houses, gutted one, had three children, and a few careers. Consequently it has taken me 25 years to finish the car to the point where I was able to take it to my first car show in September 1996. It was the Model T Club's annual car show and swap meet in St. Charles, IL. that I have been going to for 25 years to buy parts for my Oldsmobile. I received a first place trophy for the Oldsmobile Class. Then all of the hard work and money invested seemed like nothing compared to how good I felt. I am also glad I decided to restore it to original condition so that everyone can appreciate how this car looked back in 1939, when they built cars with a style unsurpassed by today's cars.
---
***CHECK OUT MY OTHER PAGES***